Project Management
Under Main menu > Extensions > Project Management, there are a few options:
Open projects from list opens a .RPL file, and then opens all the projects listed in it. Optionally you can replace all open tabs with the projects in the .RPL list file.
This is useful if you have an album's worth of tracks and you want to store a "session" such that it's easy to open all of the tracks at once.
Save list of open projects..." creates a file that lists all of the open project tabs. The list file is saved with a .RPL (Reaper Project List) extension. This file format is just plain text with one line per Reaper project filename.
You can also save "related projects", or built in links to other project files. The links are stored in the project file so you only need to create the link once. To create the link, select "Add related project..." and browse to your related project.
There's also a Project List dialog, from Main menu > Extensions > Project List.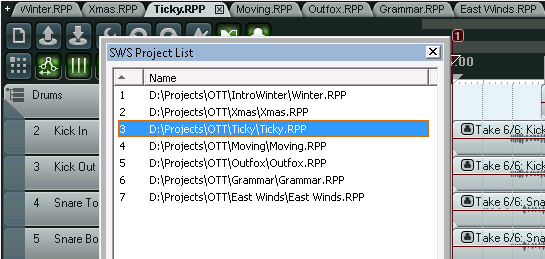 Actions
As always, there are actions available for keybinding and macro building:
SWS: Save list of open projects
SWS: Open projects from list
SWS: Add related project
SWS: Open related project 1
SWS: Open related project 2
SWS: Open related project 3
SWS: Open related project 4
SWS: Open related project 5
SWS: Switch to first project tab
SWS: Switch to last project tab